You are invited to the Grill & Chill silent auction and raffle on July 24th and 25th to help raise funds for patients healing from illness and injury at Glendive Medical Center. Stop by Friday, July 24th from 9am-4pm in the Glendive Medical Center main entrance to bid on fabulous items generously donated by local businesses or purchase raffle tickets for high dollar prizes! Masks and hand gel will be provided. The top 10 silent auction items, along with the raffle prizes, will then be available for bidding on Saturday, July 25th from 9am-3pm during our golf tournament at Cottonwood Country Club. Your support is appreciated and proceeds will be used to purchase brand new, comfortable, state-of-the-art beds for patients at Glendive Medical Center. For information on donating, please call 345-2627. Thank you for your support!

Be a Difference Maker!
The annual Grill & Chill fundraiser benefits an area of greatest need at Glendive Medical Center. This is the hospital's largest fundraiser and all proceeds raised make a difference in the lives of thousands of patients in our community.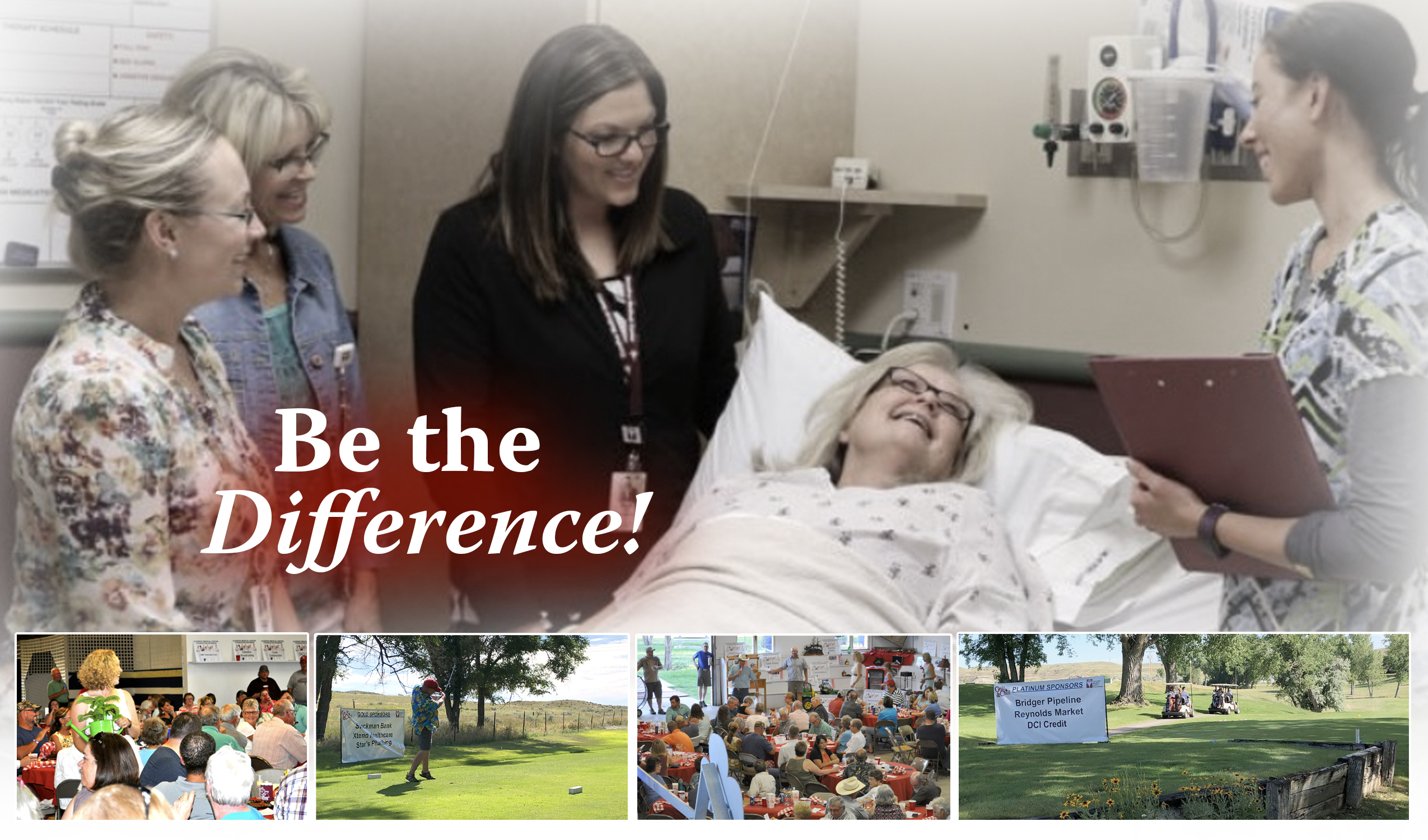 This year, our goal is $100,000 for new patient beds in Acute Care! Your generosity will help patients with illnesses and injuries heal more comfortably and quickly!
IMPORTANT NOTICE: Due to COVID-19 guidelines, we have decided to forego our family dinner and auction that is typically held on Friday evening and hold the golf tournament only. We want to thank everyone for their understanding in this decision and we appreciate your support!
CHILL - Saturday, July 25th - Registration 8am - Tournament begins at 9am - Cottonwood Country Club, Glendive
Gather a team of four and raise money for a great cause! The Chill is a fun golf tournament held at Cottonwood Country Club in Glendive, featuring a scramble format with cash prizes and games on every hole! Grab-n-Go breakfast, plenty of snacks, beverages, and a savory barbecue lunch is provided! An array of awards and raffle prizes are announced following the end of play. 18 team limit!
There are several ways you can help!
Event Sponsor—Choose from a variety of sponsorship and brand recognition levels! Your business name will be recognized and thanked prominently! Click here for sponsorship information. Please email jshanks@gmc.org or call Jaime at 406-345-2627 if you wish to sponsor the event.
Donation– Donations of any amount as well as items for either our live or silent auctions are always welcome! Please email Marketing@gmc.org or call Katrina at 406-345-8996 if you wish to donate an item.
Golf Team—Gather a team of four golfers or if you don't have a team, we will pair you up with one! Golf for a cause in a fun atmosphere on a beautiful golf course! Click here for Golf information. Update: 1 Golf Team Spot Still Open as of 7/6/2020! Please email dvaira@gmc.org or call Danica at 406-345-3302 to register for the Golf Tournament.
WINNER'S CHOICE RAFFLE! $100/Ticket - Only 100 will be sold!
The lucky winner of the raffle will have their choice of one of twelve high dollar vacation packages or a $5,000 gift certificate towards a golf cart of their choice from B&B Sales and Service in Sidney, MT. The winner will be drawn at the golf tournament. Winner need not be present to win. Raffle Tickets will be available for sale at American Bank Center, McPherson Dental, Sandcreek Dental, Glendive Public Library, and the Glendive Medical Center Foundation & Marketing Office (located at 202 W. Ames Wye) until sold out. For vacation package details, click here.
---

AVAILABLE SPONSORSHIPS (these are updated frequently - please call 406-345-2627 to secure your sponsorship level).
Top Tier – Gold $5,000-$9,999 (Unlimited)

Thank you Gold Sponsors:
Cucancic Construction
DCI Credit
Bridger Pipeline

Top Tier – Silver $2,500-$4,999 (Unlimited)
Thank you Silver Sponsors:
McPherson Dental
Prairie Electric
Stockman Bank
Cushing Terrell
Star Service
Top Tier – Bronze $1,000-$2,499 (Unlimited)
Thank you Bronze Sponsors:
Edward Jones - Angie Hagen & Cody Sevier
American Bank Center
Xtend
Mid-Rivers Communications
Imaging Solutions
BOSS Office Products
Golf Lunch Sponsor $500 (Limit 3)
SOLD OUT! Thank you Dinner Sponsors:
Eide Bailly
Reynold's Market
Aspirion
Golf Cart Sponsor $1,000 (Limit 1)
SOLD OUT! Thank you Golf Cart Sponsor:
Xtend
Breakfast Sponsor $500 (Limit 1)
SOLD OUT! Thank you Breakfast Sponsor:
Duane & Jill Domek
Grill/Chill Advertising Sponsor $250 (Limit 8)
5 Spots left!Thank you Advertising Sponsors:
Eye Clinic of North Dakota - Dr. Leidenix
Reynold's Market
Kurt Woyak
The Radio Group - Glendive Broadcasting
Pro Tax Service
Raffle Drawing Sponsor $400 (Limit 3)
Thank you $400 Raffle Sponsor:
Revenue Enterprises
Raffle Sponsor $200 (Limit 3)
SOLD OUT! Thank you $200 Raffle Sponsors:
Todd & Tarena Haggerty
Avior Group
Badlands Federal Credit Union
Grand Prize Sponsor $500 (Limit 1)
SOLD OUT! Thank you $500 Grand Prize Sponsor:
Medical Structures, LLC
Beverage Sponsor $500 (Limit 2)
SOLD OUT! Thank you Beverage Sponsors:
Prairie Electric
Bob's Body Shop
Driving Range Sponsor $500 (Limit 1)
SOLD OUT! Thank you Driving Range Sponsor:
American Ford
"Eagle" Sponsor $300 (Limit 1)
"Birdie" Sponsor $300 (Limit 1)
"Par" Sponsor $300 (Limit 1)
On Course Snack Sponsor $250 (Limit 1)
SOLD OUT! Thank you On Course Snack Sponsor:
Dawson Community College
Hole Sponsor $250 (Limit 18)
Thank you Hole Sponsors:
Hub International
TruGreen
Cal's Carpet
Eide Bailly
Thiel Brothers Roofing
Koch Furniture
Allied Investment Advisors
Wells Fargo
Core Control