Care Through Every Stage of Life
Our compassionate women's healthcare professionals have experience working with patients of all ages. We understand that it can be difficult finding a care provider you can trust and speak openly with. Our team strives to create close relationships with patients and maintain an environment where you can feel free to tell us your concerns without fear of judgment or negligence.
Obstetrics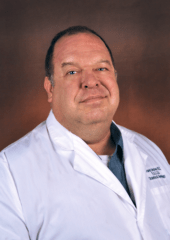 Dr. Randy Wobser
If you are pregnant or considering pregnancy, we encourage you to schedule an appointment at 406-345-8901. Dr. Randy Wobser is board-certified and a Fellow of American Congress of Obstetrics and Gynecology (ACOG), which is the premier professional membership organization for obstetrician–gynecologists. Through ACOG, Dr. Wobser maintains the highest standards of clinical practice for women's health care. Your birth story is unique and you can trust your experience at GMC.
Your birth story at Glendive Medical Center includes:
Your own dedicated OBGYN & Pediatrics team - We believe in a seamless transition from prenatal care and delivery to pediatric care with pediatric physician Crystal Potter, MD, pediatric nurse practitioner Ericca Berry, PNP and family medicine providers, Nena Panasuk, DO; Amilyn Worlobah, MD, and Audrey Kerr, PA. Your team will be there every step of the way to ensure the best care for you and your baby.
Transparent Pricing - Our friendly Patient Advocacy Liaison (PAL) will meet with you to discuss total cost (no surprising, hidden fees), insurance, and financial options for your care and delivery.
One room for your entire stay - Deliver and recover in your own newly renovated private birthing suite. Our attentive staff ensure your stay is comfortable and positive.
Special family dinner - We believe your first dinner with your new baby should be celebrated! Choose from a thoughtful menu of delicious meals from GMC Cafe to enjoy as a family.
Certified Lactation Counselors - Our team of nurses have specialized certification to guide you and support you with successful breastfeeding. They are available 24/7 by calling 406-345-3314.
Belly to Baby Classes - Belly to Baby is a free prenatal and postpartum prep class that covers a wide variety of topics that will give you confidence as a new parent through hands on practice.
Baby Bistro - Baby Bistro is a free weekly resource for families with babies up to one year old. This class is led by a team of nurses and offers assistance, growth and development assessments. Valuable resources and support for breastfeeding (but is open to all families regardless of their feeding method). It is also a great place to ask questions that arise with a new baby and meet other parents.
The Nesting Place - The Nesting Place is a free class for new parents offering education, guidance, and support for smooth transitions in the fourth trimester (after your baby is born). The Nesting Place is held the third Tuesday of each month, 10am & 6pm in GMC Carney Conference Center.
Newborn Baby Basket Drawing - Each quarter, babies that are born during the quarter are automatically entered into a Newborn Baby Basket Drawing. At the end of the quarter, a name is drawn and the winner receives a basket filled with $750 worth of beautiful baby items and gift cards from locals Glendive shops. Quarters end in March, July, September, and December.
Your birth story is unique and we want to help you experience it with compassion and trust. Read about other patient's experiences with our most recent Birth Story Testimonies Here.
Gynecology
It's important to have a gynecologist that you feel you can trust. Gynecologists perform many exams that are essential to maintaining overall health and wellness. Many women seek out care from a gynecologist at the time of their first period. It is recommended that you continue seeing your gynecologist once every one to two years for a general examination.
Other exams performed by a gynecologist include:
Pelvic Exams – An important exam that screens for ovarian and uterine cancer. It is recommended women ages 21 to 39 receive a pelvic exam every 1 to 3 years. Women over 40 should receive one every year.
Breast Exams – It is recommended a clinical breast exam for breast cancer be performed every 1 to 3 years for women ages 25 to 39. Women over 40 should schedule a breast exam once a year.
Pap Smear – The Pap smear screens for early signs of cervical cancer. Women ages 21 to 29 should receive a Pap smear every 3 years. Women over 30 typically only need one every 5 years. By age 65, if no risk factors have been detected, gynecologists usually recommend you stop receiving a Pap smear.
The exams listed are only general guidelines. Your gynecologist may have different timelines depending on your specific risk factors for various health conditions.
Other Services we offer include: Birth control, Menopause care, Cancer screening, STD screening, Abnormal period treatment.
For more information or to schedule an appointment, call: 406-345-8901.