GMC ANNOUNCES EMPLOYEE OF THE QUARTER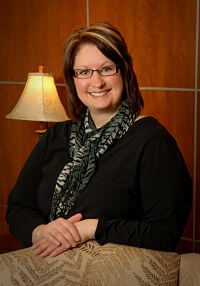 Glendive, Montana, February 21, 2012 - Glendive Medical Center (GMC) is pleased to announce that Lori Bouchard has been recognized by her co-workers and named Employee of the Quarter for the first quarter of 2012. "When a person works with such a positive and talented team of co-workers, it's very rewarding in itself. It's a privilege to be a part of the GMC family. I feel honored to be chosen by them," Lori said.

Lori has worked at GMC for over 20 years and has worked as the Perioperative Tech for the Surgical Services/Ambulatory Care Department since 2008. She serves on the GMC Jeans for Charity Committee and the Holiday Party Committee. Lori embraces GMC's core values of respect, integrity, compassion and excellence. She goes the extra mile in her job by assisting staff, medical providers and patients. "Lori is hardworking, organized and brings a positive attitude to work with her. She does many things behind the scenes, which allow us to provide better care to our patients. She is liked and respected by employees throughout GMC and is known for her willingness to help. We simply do better when Lori is working," Lea Striegel, Surgical Services Supervisor, said.

For more information about GMC, please visit www.gmc.org. 

ABOUT GLENDIVE MEDICAL CENTER - Glendive Medical Center (GMC) is a 25-bed critical access hospital located in eastern Montana, providing 24-hour emergency care and a full array of medical and surgical services. In addition, GMC operates two nursing homes with 151 total skilled beds-Extended Care (71 beds) and Eastern Montana Veterans Home (80 beds)-Gabert Clinic and Pharmacy, and The Heritage (Assisted Living 13-Units). Please call 406-345-3306 for inquiries or visit www.gmc.org.