GMC ANNOUNCES EMPLOYEE OF THE QUARTER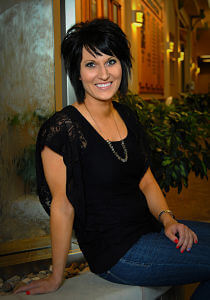 Glendive, Montana, June 24, 2013 - Glendive Medical Center (GMC) is pleased to announce that Marti Phalen has been recognized by her co-workers and named Employee of the Quarter for the second quarter of 2013. 

Marti first began at GMC in Gabert Clinic as a Patient Service Representative in 2004 and transferred into the position of Staff Scheduler in 2006. She handles staff scheduling for Acute Care, Behavioral Health and the Emergency Room. She also helps with scheduling for Extended Care and Eastern Montana Veterans Home (EMVH). "I cannot think of an employee more deserving of this honor. Marti goes out of her way to serve our patients/residents by making certain they have the staff needed to care for them and treats every employee in a fair, respectful and compassionate manner. She is truly outstanding and unwavering in her commitment to the patients, employees and GMC," Shawna Dorwart, Director of Clinical Services, said.

In her spare time, Marti enjoys helping out at her local church, spending time with family and friends and traveling. "I really am honored to have received this award. I feel as though I work among a tremendous team at GMC and am so grateful for their nomination to receive it. 

I am proud to call GMC my place of work and am blessed to get to serve this community with such committed and caring professionals," Marti said.