General Surgeon to Join GMC in July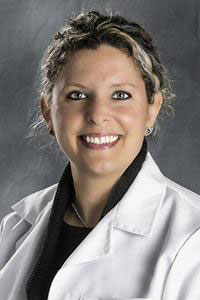 Glendive Medical Center (GMC) is pleased to announce that Kelly Dinnan, DO, will join the medical staff at GMC and Gabert Clinic the end of July, 2021. She will provide an array of General Surgery Services in this region.
"My husband, Clinton and I are very excited to move to Glendive," stated Dr. Dinnan, "we live in Michigan and established our careers in healthcare in Farmington Hills, a suburb of Detroit. This past year gave us a wake-up call to what is really important to us in life and we feel Glendive is the right fit for continuing our passion to provide the best care to patients as well as living a balanced life."
Dr. Dinnan earned her undergraduate degree in Human Biology at Michigan State University. She then obtained her Doctorate of Osteopathic Medicine at Michigan State University College of Osteopathic Medicine. She completed her residency at Botsford Hospital in Farmington Hills, Michigan and her Surgical Critical Care Fellowship at the University of California San Francisco-Fresno, California. Dr. Dinnan is board certified in General Surgery as well as Critical Care Surgery. She is currently the Assistant Program Director for General Surgery Residency at Botsford Hospital/Beaumont Health in Farmington Hills, Michigan and was the Medical Director for Surgical ICU until last year. She specializes in Breast Surgery, General Surgery, Surgical Critical Care, and Trauma Surgery.
Dr. Dinnan's road to medicine began in her elementary years, specifically sixth grade. While she was a natural artist, she also loved science. She fondly retells how her sixth grade teacher gave a prompt one day that asked, "What do you want to do?" and Dr. Dinnan responded, "I want to become a surgeon so I can fix people with my hands. I also want to find a cure for AIDS." She laughs at the second part not sure how she came up with that. That prompt, however, inspired a path towards medicine. Dr. Dinnan took art and science classes and received a scholarship for art as well as an academic scholarship. Her parents told her, "I know we said you can be anything you want, but we really feel you should be a surgeon instead of an artist." Dr. Dinnan laughs as she thinks back to that conversation.
As a Doctor of Osteopathy, Dr. Dinnan emphasizes a whole-person approach to treatment, surgery, and care of her patients. She focuses on prevention as well as treatment, tuning into how a patient's lifestyle, nutrition, and environment can impact their wellbeing. She combines her knowledge of how the body's interconnected system works with the latest advances in technology to ensure her patients receive thorough care before, during, and after surgery. "I truly love people and there is no greater feeling than helping a person become well again," she states.
Dr. Dinnan's husband, Clinton is a Registered Nurse who will join the GMC team in several areas including ICU, ER, and Inpatient. He has worked in healthcare alongside his wife since they met in the ER while she was in medical school. Together, they have a well-trained German Shepherd, "Tahla" and love the outdoors and open spaces. They enjoy traveling, skiing, country music, and going to concerts. Another passion of Dr. Dinnan's is her love for reading, particularly fiction books. It is not uncommon for her to delve into two great fiction novels at the same time. Family is also very important to Dr. Dinnan and Clinton and they are close to her parents and sister, who live in Michigan. They are looking forward to having them come to Glendive to visit.
"We are very fortunate to have Dr. Dinnan and Clinton join us at Glendive Medical Center," Parker Powell, CEO, commented, "we felt they fit in right from the start and we appreciate their compassionate approach to patient care as well as their extensive experience that will benefit patients."